This most recent trip to Vietnam was an opportunity to reconnect with a family whose baby we saw treated with Firefly four years ago. We only had a few details to track the family down, and we weren't sure what would happen if we did. Finding baby Khang was an unexpectedly moving and powerful reminder of why DtM exists.
On a research trip in 2012, we met a very sick newborn whose severe jaundice couldn't be treated with conventional phototherapy. After two days of treatment with Firefly, Baby Khang was out of danger and on his way to perfect health. The next morning, Khang's exhausted but relieved parents invited us to follow them home from the hospital. We got to have tea on the rug in their living room and meet the extended family. It was a wonderful scene: the two grandmothers fussing over the new baby, Khang's mother looking happy-tired as she served tea to the crowd still wearing her hospital pajamas, grinning uncles elbowing Khang's shy father, cousins and neighborhood kids laughing in the courtyard.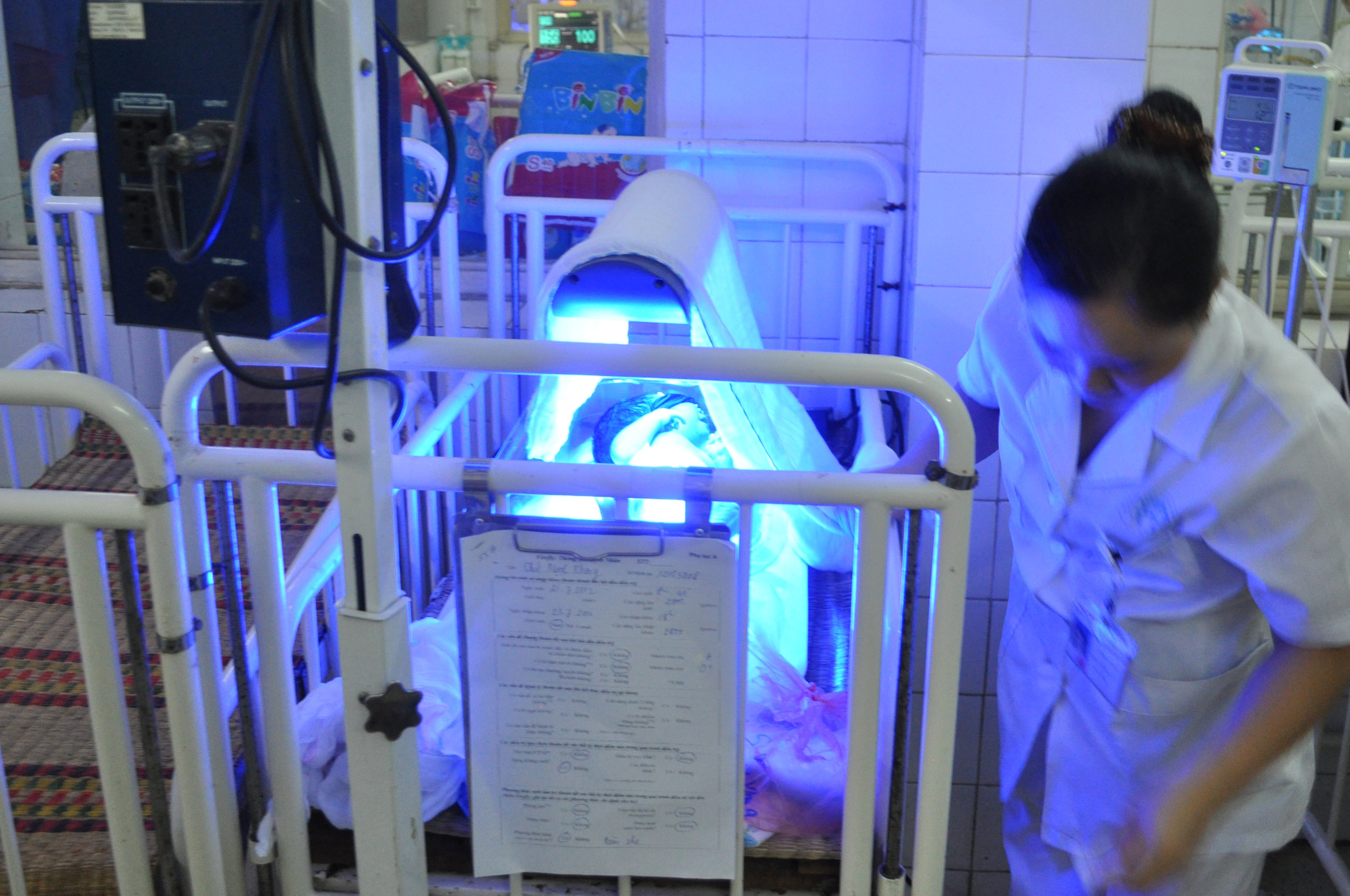 Four years later, we returned to the same village in Vietnam with only a name, a family photo and a Google Earth screenshot. We went door-to-door through the narrow alleys in the hopes of finding the family and catching up with baby Khang. Some friendly neighbors recognized Khang's parents in the photo on my cellphone, and one of them grabbed her bicycle and offered to guide us to their house. When we arrived, I recognized Khang's paternal grandmother from our last visit. She pointed to a dark-haired little boy in orange pajamas peeking at us from behind a pillar. "That's Khang."

Khang's parents and older sister came home and they invited us to join them for lunch. Khang was, in every way, a normal four year old. He showed off how he could run and jump. He loved playing with his Mom's cellphone. He annoyed his big sister. He climbed into his Dad's lap while eating a chunk of sugarcane. Over lunch, we traded parenting stories and bad jokes through our translator. We took some pictures together and made plans for a return visit when we go back to Vietnam
One of the challenges in social enterprise design is that it's easy to labor for years without ever seeing first-hand evidence that what you're doing is making a difference. We've been working on newborn health in general and Firefly phototherapy in particular since 2009. Firefly devices distributed by our partners have already treated more than 80,000 newborns in 21 countries from Afghanistan to Zimbabwe. It's an encouraging statistic, but one that lacks a human scale.
Meeting Khang at four years old was remarkable for being so, well, unremarkable. When we first met him in 2012 as a tiny two-day-old baby with puffy eyes and a yellow tinge to his cheeks, Khang was on the precipice of lifelong disability or even an early death. Now, he's an ordinary, healthy active kid. People like Khang's parents ought to be able to take his robust good health for granted. In a just world, no one should see their child suffering from an easily-treatable condition like jaundice. Visiting Khang's family in Vietnam was a powerful reminder. It is our privilege at DtM to make our small contribution to bringing a just world into reality.