Pelican Pulse Oximeter
In Progress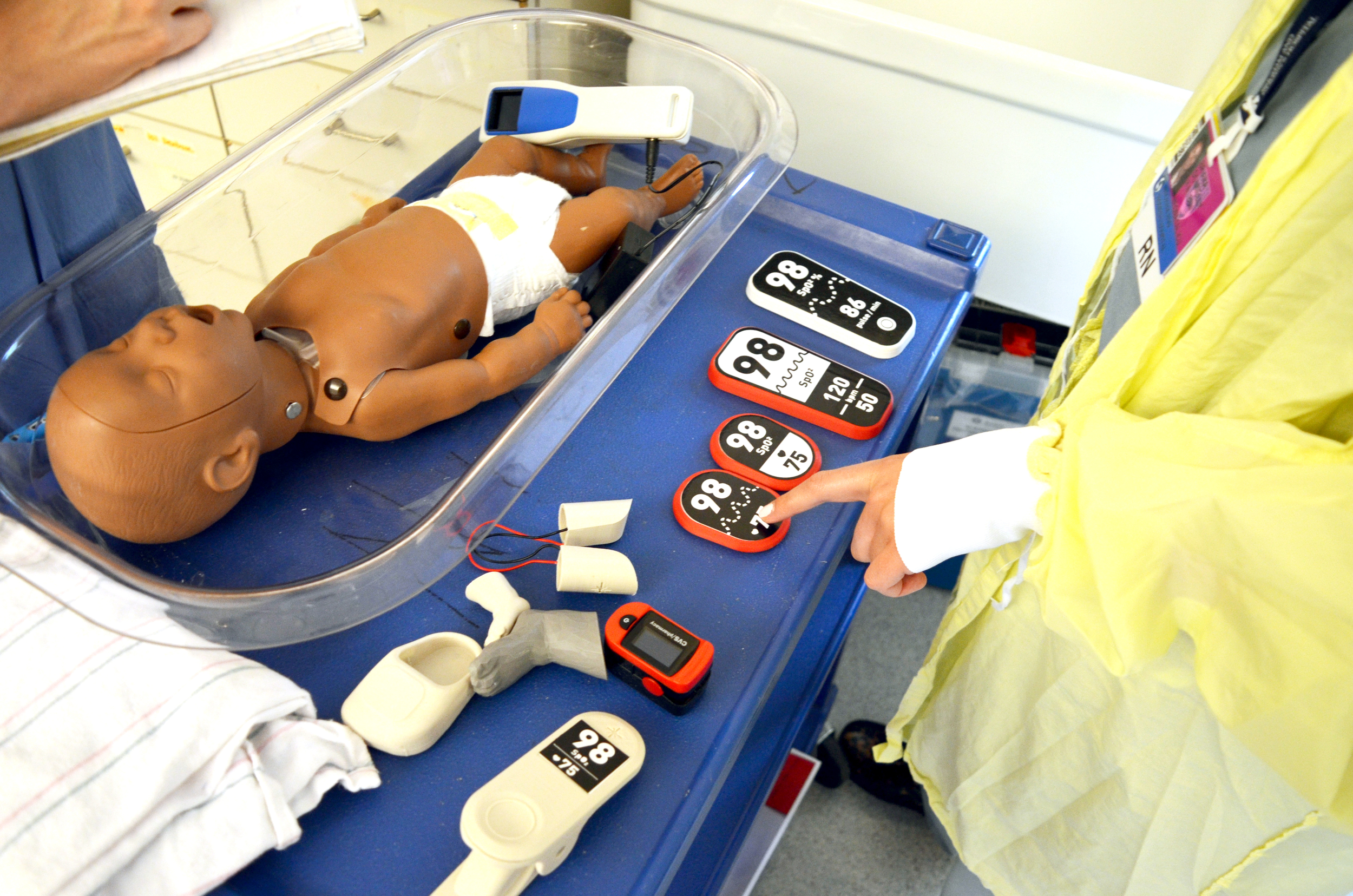 Why
Pneumonia is the leading infectious cause of newborn mortality. Although a pulse oximeter combined with a respiratory rate counter would be the most effective tool for pneumonia diagnosis, there does not yet exist a device that is suitable for use with newborns in poor, hard-to-reach communities and by low-skilled care providers--the first line in pneumonia diagnosis and treatment.
What
Pelican features a washable, reusable sensor that reduces the total cost of ownership by eliminating the more common single-use $10 disposable sensor. Pelican avoids common points of mechanical failure, for example by eliminating cables. Pelican's intuitive design and improved user interface will allow low-skilled or illiterate users to quickly and accurately collect blood oxygen measurements and respiratory rates, and will support better health outcomes by providing treatment recommendations
How
DtM and partners will develop the current "looks like" design concept into an integrated prototype. DtM will test engineering performance and community healthcare workers (CHWs). We will leverage our networks to form manufacturing and dissemination partnerships to scale Pelican to high burden pneumonia countries such as India and Uganda.
Our Progress
DtM has developed a dozen product forum concepts, which we brought to Haiti for initial field testing. Based on user feedback, we have designed two new prototypes that illustrate the user interface and form factor for taking newborn measurements.
Pelican News from the Blog
Collaborators
We extend a big thank you to our donors, partners, and collaborators
Student Volunteers
MIT-RISD Product Design and Development Team
Aditya Ranjan
Esther Mangan
Keiichi Onishi
Kevin Wiesner
Leah Chung
Phillip Daniel
Sara Stulac
Shubhang Tandon
Victoria Young
Wei Wu
Advisors
MIT-RISD Product Design and Development Team
Prof. Steve Eppinger
Prof. Matt Kressy
Prof. Warren Seering
Sarah Cooper-Davis
Lauren Eppinger
Technical Advisors
Gregory Dajer, MTTS
Matthew Blyde, MTTS
Michael O'Brien, MTTS
Luciano Moccia, Thrive Networks
Leith Greenslade, MDGHA
Amy Ginsburg, PATH
Brigham and Women's Hospital, Boston
Dr. Steven Ringer
Kevin Gaines, CRT-NPS
David Beadles, CRT-NPS
Nancy Brazeau, RN
Jennifer Flockiger, RN
Janet Frank, RN
Gaby Harrison, RN
Paula Lambert, RN
Lodie Podoloff, RN
Boucan-Carre Hospital, Haiti
Dr. Jean Louis Judson
MGH Department of Pediatrics
Dr. Kristian Olson
Dr. Ryan Carroll
St Boniface Hospital, Haiti
Dr. Inobert Pierre
Dr. Miliane Clermont
Conor Shapiro
Robbie Patterson
Sayari Patel
Mirebalais University Hospital, Haiti
Dr. Jack Long
Dr. Delight Wing
Marc Julmisse, RN
Naomi Marcelin, RN
Nicole Mathurin, RN
Vanessa Jean-Bart
L'Hopital Sainte-Therese de Hinche, Haiti
Dr. Anna Stanzelova
Bien-Aime Iphonise, RN
Monica Terez, RN
Lelia Dorcin, RN
Design Visionaries
Anonymous
Autodesk Foundation
Leadership Circle
Suzanne and Michael Graves
Salama bint Hamdan al Nahyan Foundation
The Jeannie Tseng and Colin Rust Charitable Fund
Design Society
Ansara Family Fund
Dassault Systemes and SOLIDWORKS
Jonathan and Melinda Moulton
Lauren Stewart and Benjamin Vigoda
Emily V. Wade
Innovators
Boston Design Solutions
Eastern Bank Charitable Foundation
Garon Family Fund
Jon Goldberg and Lisa Levy
Gould Family Foundation
Margaret Holen and David Coulson
Roman and Karen Lubynsky
Jack Oldham and Virginia Mulkern
Optikos
Dr. Steven and Eleanor Ringer
Benjamin Spiess
Supporting Strategies
Dr. Ralph and Christina Sweetland
Philippe and Kate Villers
Minhua Zhang and Beidi Gu
Samantha and Adam Zirkin
Friends
Jim Ahern
Ibrahim Al-Qamari
William Aldrich
Heather Arnold
Alyssa Bamer
Toby Bright
Kate Brouwer
Elizabeth Bruce and Tim Prestero
Reed Bundy
Anne Burt
Maureen Buttenheim
Laurie Cameron
Neil Cantor
Ryan Carroll
Aimee Crane
John and Elaine Daszkiewicz
Bre DiGiammarino
Karen Dorton
Donna and Allan Douglas
Leslie Du
Deb Duncanson
Danielle Duplin
Matt Eckelman
Lubna Elia
Akwarandu Emere
Constance Emmett and Suzy Groden Steve Eppinger
Miranda Fan
Andreas Fleig
Heather Fleming
Ben Folger
Amy Forman
Sanjli Gidwaney
Jeff Gonder
Jessica Griffin
Smitha Gudapakkam
Adi Guzdar
Jamie Hadden
Murray Height
Paul Hudnut
Elizabeth Jack
Mihira Jayasekera
Anne Johansen
Chris Johansen
Elizabeth Johansen

Julianna Karr and William Harris
Christine Kashian
Theresa Kavanaugh
Elizabeth Kelly
Jon Kennedy
Katharina de Klerk and Kelly Murphy Janet Komatsu
Hobson Lane
Nabil Laoudji
Geoff Mamlet
John Meany
Timothy Morgan
Sami Nerenberg
Ojonimi Ocholi
Glenn Orlic
Jen Overton
Anne Plimpton
Karen Poggi
Maureen Poggi
Rebecca Pontes
Mark Prestero
Sheryl Prestero
Ruthanne Price
Hugh Pyle
Mekhala Raghavan
Geoff Richcreek
Ayo Roberts
Stephen Rodriguez
Dennis and Karyn Sasso
Liz Scranton
Shamsieh Shanti
Jordan Silver
Julie Simon
Edward Smith
Sarah Snaden
David Solomon
Margaret and William Soper
Christine Southworth
Mark Stewart
Forrest Sutton
Chris Tolles
Galia Traub
Erika Wagner
Dustin Weir
Steven Wentzell
Jocelyn Wyatt