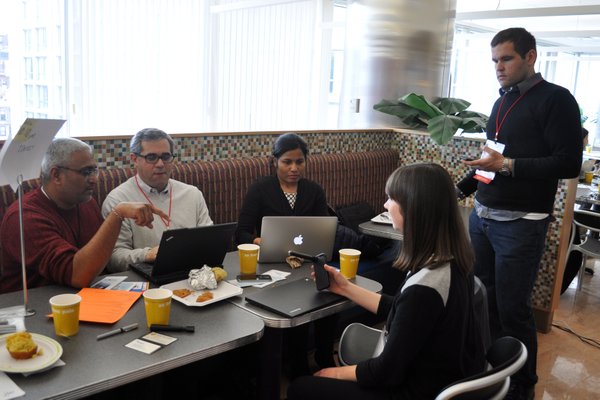 Earlier this month, DtM joined the Consortium for Affordable Medical Technologies (CAMTech) and Global Disaster Response at Mass General Global Health to host a Zika Innovation Hackathon at Massachusetts General Hospital. We packed our Makerbots and some hacking gear to help teams with rapid prototyping, and we mentored teams on product design and strategy. The event kickoff featured experts from USAID, the US National Security Counsel, the Panamanian CDC and a maternal hospital in Brazil. Here's what we learned.
The Zika virus has become a public health emergency of international concern. During the 48-hour hackathon, teams of clinicians, engineers, entrepreneurs and end-users created solutions to pressing clinical challenges in three critical areas:
personal protection, particularly for pregnant women
vector control, in particular eliminating mosquitoes in and around homes
public information, including early case-reporting and fighting the spread of misinformation
Zika may feel like the crisis of the moment, but climate change means we will only see an increase in the incidence and spread of vector-borne illness. Any solution that addresses Zika would likely also apply to other flaviviruses, including dengue, West Nile and yellow fever and other diseases carried by the aedes aegypti mosquito, including chikungunya. Dengue cases have increased 200% in the last year, and the disease has much more severe burden of morbidity and mortality. Meanwhile, the crashing pregnancy rates in countries like Colombia and Brazil from prospective parents anxious about birth defects means that the region will see lots of empty kindergarten classrooms in five years.
Disease-bearing species of mosquito are "as different as hummingbirds and eagles." While the anopheles mosquito that transmits malaria prefers pristine forest and attacks at night, the daytime-biting aedes aegypti mosquito has co-evolved with people, such that it thrives in urban settings. One terrifying statistic: the aedes mosquito can breed in just a teaspoon of water. In fact, it can breed in the drip pan underneath your refrigerator. Brr! Zika-bearing mosquitoes follow the plume of CO2 over a range of hundreds of meters, an individual's infrared signal and hormonal signature from a range of meters. Unfortunately, the higher heat signature and hormonal profile of pregnant women make them particularly attractive to mosquitoes.
For more background on the Zika virus, we're big fans of this comprehensive infographic developed by Juhan Sonin and the team at Involution Studios--another hackathon mentor.